Moderators: Moderators Emeritus, Moderators
Posts: 1261
Joined: Tue Apr 22, 2003 2:02 pm
Current Heading: Ascending
Location: Buffalo, NY et al.
Contact:
Rolling stone rated "Pushover" #73 on the top 100 songs of the year! Wooo Hoo!
Check it: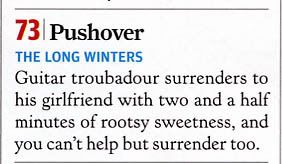 Posts: 447
Joined: Wed Apr 06, 2005 12:33 pm
Location: Green Lake, Seattle, WA, US of A
Contact:
Alright! Go Rolling Stone.

And to think I'd lost faith in them.
that's just too happy!!! congrats guys...