Squid wrote:We just need to be willing to fly Cap'n Jack to Reykjavik, as his Ark might not be ready quite yet.
Who needs an ark if you can have this: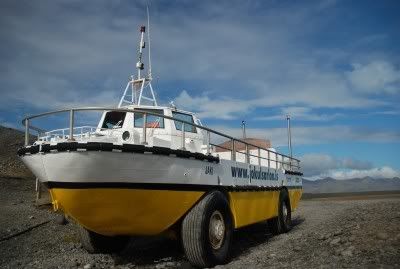 I was told that before they were used by the US Army in the Vietnam war before they ended up at the ice lagoon... considering that Keflavik used to be a NATO-base until last year, it sounds possible.
And Betty is right, like glaciers everywhere on the planet, this one's on the retreat right now.
I really loved Iceland... normally during the last few days of a vacation, I look forward to going back home, at least a bit; but this time I was just sad.
It's such a beautiful place, and so quiet (fun fact: the further south you go in Europe, the louder people get). Out of the 300.000 people living on the island, 2/3 live in the capital, so when you drive through the country, most of the time all you hear is water (ocean, rain, waterfalls, or hot springs hissing from the ground), or animals (birds and sheep mostly).
And the amount of natural energy resouces they have is ridiculous. (also, hot water used for households comes from hot springs in many places; so they don't even have to heat it up before use) Once it's going to be possible to send electricity over long distances, Iceland will be the new Dubai.
EDIT: you should totally go there during the puffin season (July-mid August)